For Social Upliftment • Globally
The 4th Industrial Revolution
Mission
Leverage The 4th Industrial Revolution (4IR) Technologies and neo-Economies to Bring in Positive Changes in the Lives of The Disadvantaged Section of the Society. Globally
1. Employee Owned Venture Builder
We Build Global
Impact startups


: Fully In-house
Then Covert It into an Employee Owned Company by transfering 74% shares to an Employee Ownership Trust (EOT) approved by UK government under Finance Act 2014 >>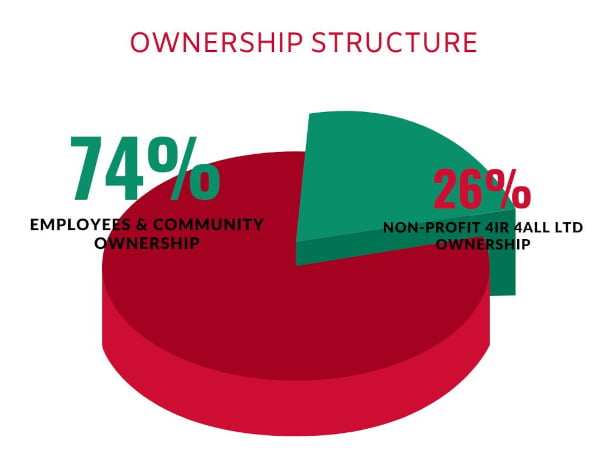 Latest Employees Owned Startups
In-house Venture Studio, building 100% For-profit, Employees & Community Owned, Global Impact Startups.
2. Remote Impact Startup Incubator
Location Independent Impact Startups Incubation

Solo Founders from any part of the world welcome

Access to UK Startup Ecosystem ( Funding, UK Incorporation... )
Preseed Fuding of GBP 20,000 to GBP 150,000 through Angel Investments, Crowdfunding etc.

In-house UK Incorporation facilties to get access to UK Startup Fund Ecosystem

UK govt startup investment schemes like SEIC (Seed Enterprise Investment Scheme) pre-approval
Founder Personal SOS Funding
It's our primary mission to promote entrepreneurship among the disadvantaged and unreached sections of the society.
In some cases, some of the members of the Founding Team (e.g. Refugees ) may need personal funding assistance, in addition to the funding required for the startup they launch.
Some of the SOS needs may be:
Healthcare, Temporary Housing, Counselling, Food, Clothing etc.

Immigration or any legal assistance

Cash for personal expenses
3. UK Remote Startup Formation
This service is aimed at empowering disadvantaged founders in the Global South ( Africa,, Asia, Latin America) by letting them access the the UK Ecosystem including funding and government schemes.
Remote London Startup Incorporation & Management

Citizens & Residents of almost all the countries eligible

UK Company Bank Account with Debit Card & Online Access

Cross border eCommerce Addons (Stripe Merchant

UK Government SEIS & EIS Seed Funding Pre-approval
4. Global Impact Ecosystem & Cloud Platform
We have built a robust, multi-module, unified cloud platform to facilitate formation and growth of a global ecosystem of impact entrepeneurship.
The platform is accessible globally. It's community driven & run and is 100% FREE.